Starting a new year at school in Long Beach is exciting, especially when you're moving into a new college apartment. You spent months searching for the perfect apartment for you and your roommates, and now it's time to move in and make it home.
Before you settle down and add your own personal touches to your adorable apartment, there are some things you will have to purchase and pack to bring with you. To ensure you don't forget anything, we've created the ultimate checklist of essentials for your college apartment.
So, if you haven't already started packing, make sure to read through this list and make note of what you'll need.
Kitchen
As a college student, you may not be spending too much time in the kitchen cooking yourself meals since there are so many great restaurants around, and you may have a meal plan. However, it's nice to cook at home for those weeks where you're trying to save money.
In order to cook a proper meal at your college apartment, you'll need some essential items.
First, you'll need items to cook with. Make sure you bring the following with you:
Pots
Pans
Wooden spoons
Mixing bowls
Cooking trays
Spatula
Whisk
Pizza cutter
Hot plates
Oven mitts
Next, you'll need something to eat your home-cooked meal from. To enjoy your meal, make sure to pack:
Dishes
Bowls
Forks
Spoons
Knives
Glasses
Mugs
Tupperware containers
And don't forget those appliances that don't typically come with an apartment. You should expect to bring the following:
Coffee maker
Toaster
Blender
As for furniture, you should probably consider purchasing a kitchen table and chairs as well.
Lastly, we can't forget about keeping the kitchen clean, especially after a night of cooking. You'll need to have:
Paper towels
Sponges
Dish soap
Dishwasher detergent
Dishtowels
Counter cleaner
Stove cleaner
Trash can
Trash bags
These are the absolute essential items you will need to have a properly functioning kitchen in your college apartment.
Living Area
Your living area will be where you and your roommates or any friends you have over will probably hang out. So, it's important that this area is comfortable and well-furnished.
In your living area, you can plan on bringing the following items:
Couch
Armchair
Coffee table
Area rug
Television
TV stand
Curtains
To personalize your living area, you and your roommates will probably want to decorate the space with house plants, wall paintings, photos, or other decorative items. Before hanging anything up, such as shelves or pictures, get permission from your landlord.
If you make any changes to the apartment without your landlord's approval, you could be sacrificing your security deposit.
Bathroom
A bathroom without the essentials can be pretty uncomfortable, especially if you share it with one of your roommates.
To ensure your bathroom is at its ultimate comfort level, you should plan to bring the following items with you:
Shower curtain
Shower organizer
Toothbrush holder
Towel hanger or rack
Bath mat
Trash can
Bath towels
Hand towels
Washcloths or loofas
Now one of the not-so-glamorous parts of packing the essentials for your college apartment's bathroom is the cleaning supplies. While nobody enjoys cleaning a bathroom, it's important, which means you'll have to pack the following essentials:
Toilet brush
Plunger
Sponges
Bathroom cleaner spray
Rubber gloves
Mirror cleaner
Tile cleaner
Of course, you will also want to make your bathroom unique to your style as well. Consider getting some decorations such as wall art, plants, or other items to add some personal touch.
Bedroom
In a college apartment, your bedroom will serve as a place to rest and study as well. It's important that you make this space comfortable and relaxing. We recommend not having too much clutter because it can cause distractions, especially when studying for an exam.
To start our list of items you'll need for your bedroom, let's focus on the pieces of furniture you should bring with you:
Bed frame
Mattress
Dresser
Desk
Desk chair
Desk lamp
Television
Television stand
Bookcase
Now that we've listed the basics of what you'll need let's talk about what will make your room a little more comfortable. The following items will surely help you make your room feel cozier:
Bedspread
Set of sheets
Pillows
Area rug
Curtains
And lastly, you'll need some items to decorate your bedroom and really make it feel like home in Long Beach. You may want to consider bringing posters, wall art, photos, string lights, extra comfort items like a beanbag chair, and more.
Outdoor Area
It's no secret that the weather in California is amazing, so if you have an outdoor area included in your college apartment, you'll probably spend a lot of time out there. Make this experience even more pleasurable and bring some essentials with you.
Outdoor area essentials include:
Patio furniture
Patio cushions
String lights
Firepit (if allowed)
Outdoor speakers
Of course, the items you bring for your outdoor space all depend on the space itself and how your landlord allows you to use it.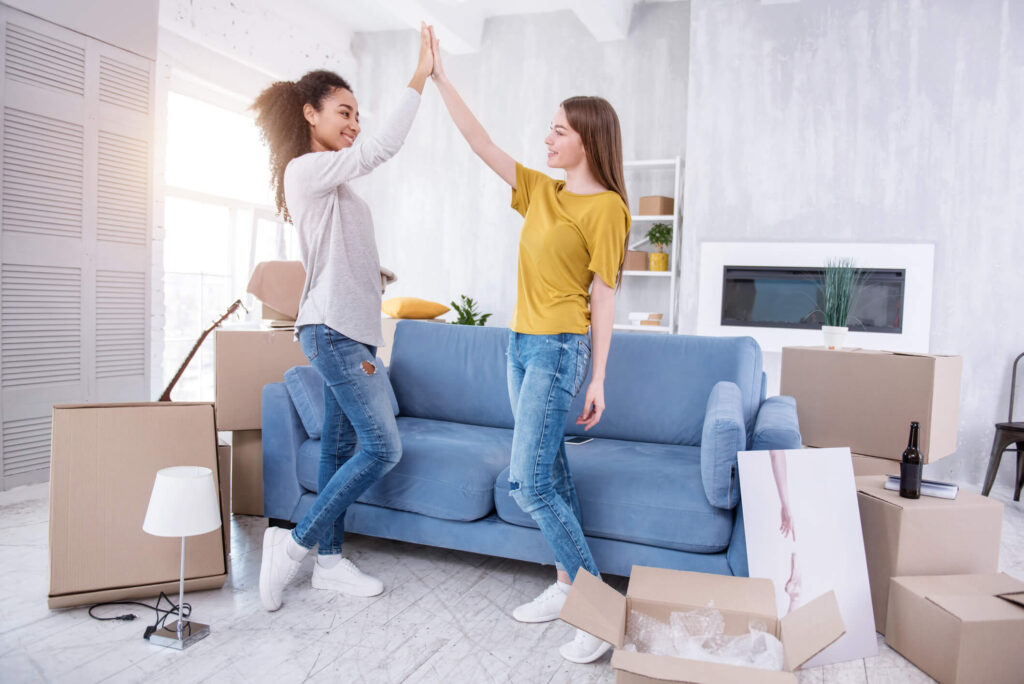 Coordinate With Your Roommates
Before you go out and buy everything on this list, coordinate with your roommates to see what they can bring as well. This will help you save money and avoid having duplicate items in the apartment.
If you're on a college student budget, be sure to ask friends and family if they're looking to get rid of furniture or kitchen items. You can also go to second-hand stores or use the Facebook Marketplace to find discounted used furniture and items.
Pro Tip: Get to Know Your Landlord or Property Manager
As a student renting a college apartment in Long Beach, it's probably your first time living on your own. Since you may feel a little nervous about it, be sure to get to know your landlord or property manager. They are the ones you'll call if there's an issue in the apartment.
For example, if there's a leak coming from the ceiling or your washer and dryer aren't working, you can call them to fix it. Having a good relationship with your landlord or property manager will do wonders for you during your lease!
CMC Realty & Property Management Can Help You Find Your Next College Apartment
Are you still in the market for a college apartment in Long Beach? Let CMC Realty & Property Management help you find the perfect one for you and your roommates.
As the area's leading property management company, we have a great selection of rentals and provide some of the best management and maintenance services to our tenants.
Contact us to find your future college apartment in Long Beach today!